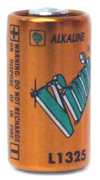 The Multivet bark collar 6V battery is the replacement battery for the Spray Commander Remote Collar and Spray Control Bark Collar. It is the perfect replacement part for the bark collars that are intended to help stop a dog from barking. This battery is designed to give you the power needed to ensure the collar works perfect.
The 6 Volt Alkaline battery is compatible with a wide range of Multivet products that require that size battery.
The battery is very easy to use, all you need to do is take out the old unusable one and replace it with the brand new and fresh 6-volt battery.